Ages 4- 17 | Various dates and locations across Ipswich and Suffolk
Our flagship Theatre Academy classes are the perfect way for you to experience all aspects of performing arts and build your confidence in a fun, playful environment.
Join our weekly classes in Drama, Singing and Dance including Jazz, Modern, Tap and Ballet and improve your skills and technique across multiple disciplines.
Our classes for little ones are guaranteed to boost your creativity and encourage you to explore your imagination, whilst if you're an older student you'll be challenged to continue to nurture your talent and prepare for a career in the arts.
DETAILS
Classes: Dates and times vary depending on age (see timetable)
Academy Names and Locations:
Kesgrave | Cedarwood Primary School, Wilkinson Drive, Kesgrave, IP5 2ES
Warehouse Studios | Warehouse Studios, Pauls Road, Ipswich, IP2 0AN (Previously known as Castle Hill Academy and Chantry Academy)
Rushmere | Rushmere Hall Primary School, Lanark Road, Ipswich, IP4 3EJ (Previously known as Sidegate Academy)
Fee: £50 for a ten week term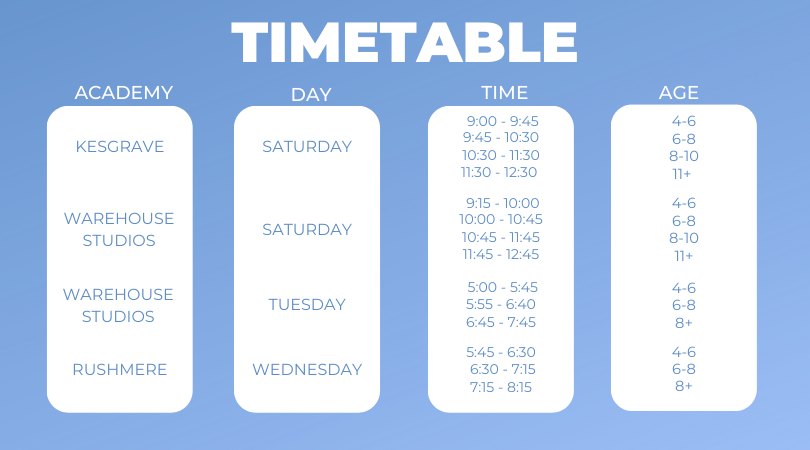 Staying Safe
Keeping everyone safe at the studios is our top priority. For adults and children aged 11 and over, we ask that you wear a face covering on arrival and when you're moving around the building. There is also a contact-free hand sanitiser at the main entrance, on each landing and in all studios. These should be used on arrival, departure and after handling props.
If you or a close contact or family member tests positive for Covid-19, please email covid@coopjuniors.co.uk immediately and do not Theatre Academy classes.